What is Secret Hair Extensions? Today, let's talk about it. The secret hair extension is also called as Flip in hair extension, invisible hair extension and Halo hair extension. Next time when you're hearing these names of hair extension, you can be proud to tell your friends that it is the same thing. Why it is so popular and has so many names? Check out below.
As we can tell from the names, invisible hair extension, secret hair extension these two names are based on its appearance which the hair extension is almost invisible compare to other hair extension, such as clip in hair extension, tape in hair extension or micro loop hair. The other two names, halo hair extension is named according to its structure, because it is consist of a halo line, so it is named into halo extension. And the flip in hair extension, like it says, it is named by its using method. What you need to do just flip it in your hair within one minute.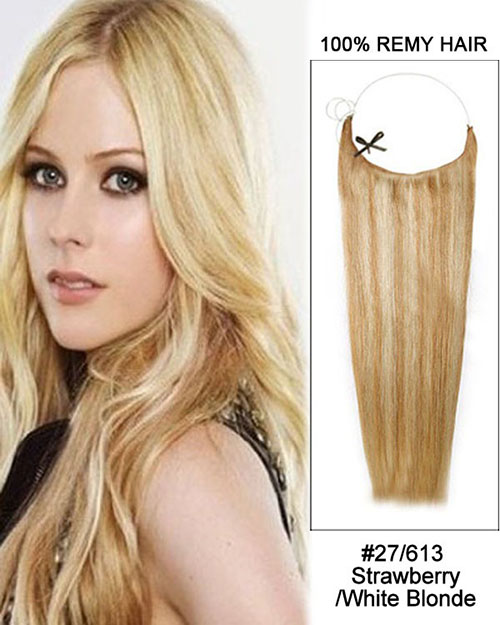 Why the secret hair extension is so trendy worldwide? Secret hair extension is a kind of extension that can give you thick, natural looking volume and length in rapid time, maybe only seconds work then you can achieve a stunning looking with the secret hair extensions. It is hot for it's a temporary damage-free hair extension. With no clips, no glue, no weaving and no beads such advantages, secret hair extension flip in your hair with an adjustable, translucent halo or headband and that is covered by your own hair. All these process, flip in or take off can be done within less than a minute! You can wash, trim, style, straighten & curl your Secret Hair Extension to blend right in with your own hair for instant volume & length.
Hairplusbase Secret Human Hair Extensions is available in about 20 colors: #1 Jet Black, #1B Natural Black, #2 Dark Brown, #4 Medium Brown, #6 Light Brown, #8 Ash Brown, #24 Ash Blonde, #27 Strawberry Blonde, #30 Auburn, #33 Dark Auburn, Blue, Green, Purple, Pink, Red, #1B/30, #4/27, #4/613, #12/613, #27/613, etc. Choose your color and get started with Secret Human Hair Extensions from Hairplusbase today.
Hairplusbase Secret Human Hair Extensions are affordable and you can be ensure that all the human hair extensions are made with 100% human hair material, without any animal hair or synthetic fiber mixed. Customize order is accepted here. That is convenient to do hairstyles for whatever you want.